Thank you for joining us this year! Please read ALL the following information. I know it's a lot of information, BUT every year more than one person says, "I didn't know that" and that's because they didn't read ALL of this info. Help me help you.
(If you bought workshops as GIFTS for people, and you did not provide their email address(s), then they are not getting this email. If you bought workshops for people and provided their email address, then they should get this email.)
Lunch
Thursday/Friday workshops The Fairgrounds Cafe is the only onsite food vendor guaranteed to be open for lunch on those days. Full day classes have a 1-hr assigned staggered lunch times. Scroll to the bottom to see the menu with pricing so you can decide if you need to make alternate arrangements.
e-Tickets
Registered before 10/9/17: Tickets will be emailed to the registrant's email address beginning, in batches, starting Monday, 10/9/17

Registering after 10/9/17: E-tickets As Time Permits - check email and spam. - Your name will instead be on a list at both the Mulberry St Pedestrian Gate and the 4H Gate ONLY.

Remember:

Taking a 3+ hour workshop, you receive a weekend pass (2 etix)

Less than 3 hrs workshops get a pass for the day of class only. (1 etix)

We suggest you print the e-ticket as soon as you receive it, using Chrome or Firefox (not Safari). This ticket must be presented at the gate for admission (unless you registered after deadline). You can also enter your cell# after you enter your email address to get the e-tickets. That also sends it to your cell phone (data plan required)

One pass per person, regardless of how many workshops you're taking. Tickets are not replaceable.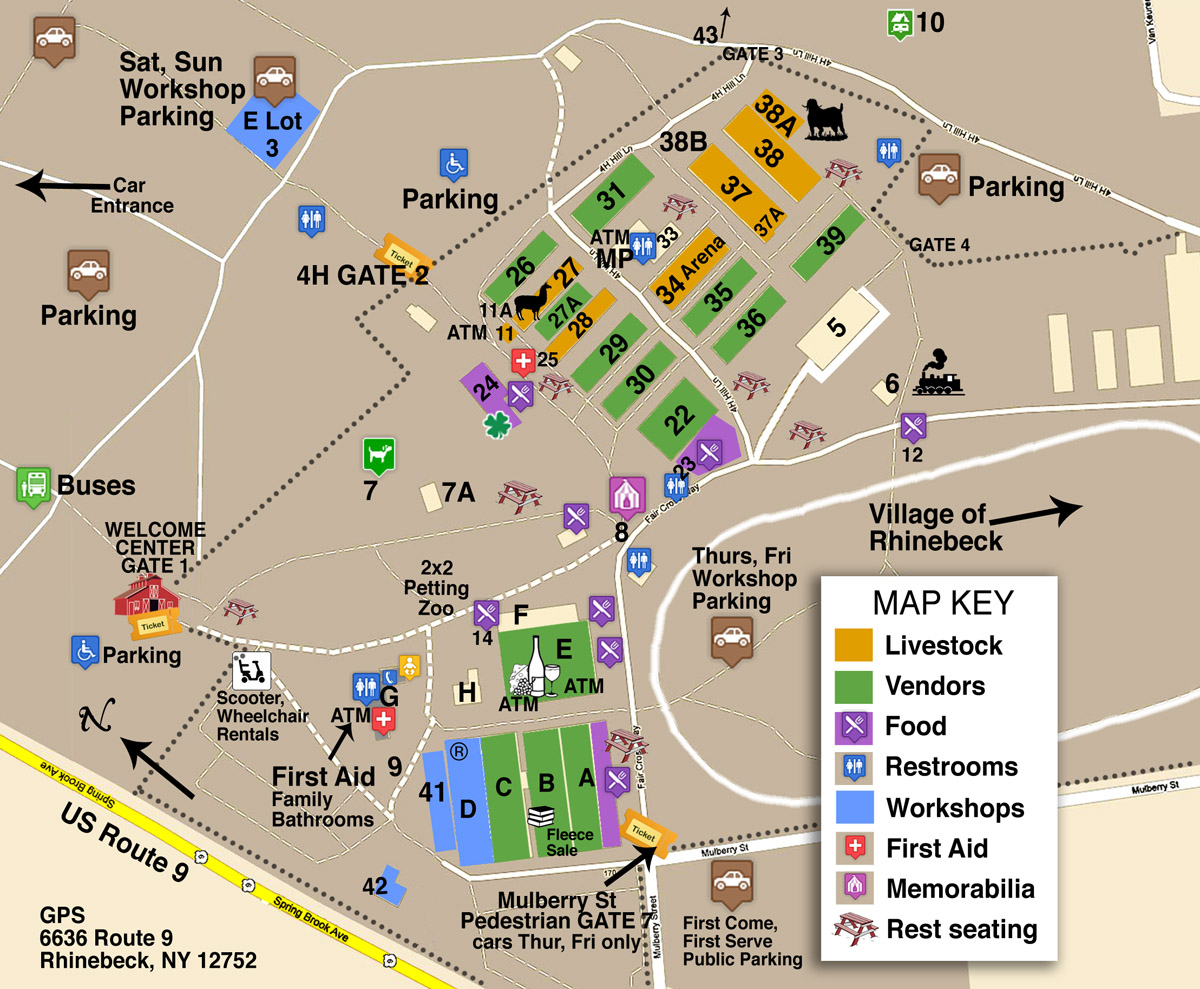 LOCATION
Workshops are held in Bldg "D," the Tent Area (41) next to D, Bldg 42, or Bldg G, the "Girl Scout Room" (all in blue). See more info below for Thurs/Fri workshops and Sat/Sun workshops.
MISC. INFO
It's best to dress in layers and choose footwear wisely - "floors" in tents are usually blacktop/concrete. Remember, any class can be held in a tent due to space restrictions.

Building D has two industrial propane heaters and Tents have patio propane heaters.

Chairs for Building D workshops are wooden with lightly padded seats, Tents have plastic (no padding); bring a comfortable chair or cushion from home if you'd like.

If you need task lighting, bring a battery operated light with you.

Bringing an e-spinner? Pack an extension cord.

Coffee, tea, water and snack-y things will be available throughout each day for students and instructors thanks to the generosity of several sponsors. Using a reusable cup helps reduce waste..

Restrooms are a short walk away. There is no dedicated restroom for workshops.
CHECK-IN
You must check-in in Bldg D (accessed through Bldg C) prior to your first class. You'll get one irreplaceable lapel button - your "ticket" to workshop areas (it does NOT take the place of tickets to get through the gates). Allow plenty of time for check-in, to find your class, and grab a cup of coffee or tea before heading to class. Taking more than one class? You only have to check-in once.
PRE-SALE PICKUP
Pre-ordered souvenirs, with receipt, will be available for pickup in Bldg D, if and only if you selected WORKSHOPS as your pickup location when you ordered. Otherwise, go to where you chose as your pickup location.
THURSDAY OR FRIDAY WORKSHOPS - PARKING AND OTHER INFORMATION
Fairgrounds open by 8:00 am each day, Workshops begin at 9:00 am.

NO ticket needed to enter the grounds on Thursday or Friday.

Drive through the Mulberry St. Gate and park in the oval track (or use the adjacent parking lot and access the grounds through the Mulberry St. Gate). If you end up in the big grassy area via the North Entrance gate, turn around, make a left on Rte 9 and go to the Mulberry St. Gate which is closer and more convenient.

You may park, temporarily, in front of Building D or near the Tent Area to load/unload supplies.
SATURDAY OR SUNDAY WORKSHOPS - PARKING AND OTHER INFORMATION
We strongly recommend bringing hand carts/wagons if you have equipment to bring to classes.
Fairgrounds open by 9:00 AM, Workshops start at 10:00 AM.
Parking: Refer to this map. You may park in any parking lot, but the Mulberry Street "first come, first served" lot is closest to the workshop area.
Handicapped parking is available at the Welcome Center Gate #1, 4H Gate #2, and Mulberry St Lot. All other parking will be in the general parking areas for the festival.
If you absolutely have to drive onto the festival grounds, contact me prior to 10/8/17 and, if approved, a mirror hang tag will be provided. This allows you driving access to the grounds prior to 8:30 am through one entrance only - the North Entrance gate - to drop off your supplies/equipment. The car then must be removed to general parking areas . Vehicles found inside Festival grounds after 8:30 am will be towed. You must contact me for permission.
IMPORTANT THINGS to REMEMBER:
This Festival is run by a devoted network of volunteers. Please be kind to them. Many of us wear multiple hats before, during, and after the Festival. Consider donating your time for future Festivals.
RAFFLE!
Guess what? The raffle is back! Rules will be posted at the Registration Desk.

DO NOT wait until the last week to contact us with e-Ticket or other Festival related questions. Time is at a premium from October 16 through the Festival - review workshop website, logistics information, and spam before sending emails. Your question may not be answered in a timely manner and/or you may get a quick and very brief reply. If it's a question related to the workshop you're taking, instructor's emails have been provided on the website, so you can contact them directly. Instructors will not be able to assist you with logistics.
Late for class? It happens. It's your responsibility to catch up and you may have to finish on your own.
Instructors are not allowed to sell to students in the classroom and vendors are not allowed to sell, contractually, before the Festival opens at 9:00 am Saturday or Sunday. Please don't ask them to do so.
You may NOT record, in any way, any portion of any workshop without express permission of instructor. No photos/recordings of techniques can be uploaded to social media.
Please be considerate of your fellow students - infants/babies/children/families/visitors are NOT allowed in classrooms, for any reason. Cell phones should be turned to mute or off entirely during classes. Bring headphones if you like music while you're working.
STAY INFORMED:
Any changes to this information will be posted at
http://sheepandwool.com/workshops/readme-workshop-attendees/
Announcements will be posted on our website, Facebook page, Twitter (@nysheepwool) and, as time allows, under the Rhinebeck!! group on Ravelry.
We look forward to seeing you soon!
Karen Santucci
Workshop Coordinator
2017 NYS Sheep and Wool Festival
workshops@sheepandwool.com

Thursday and Friday Food Options