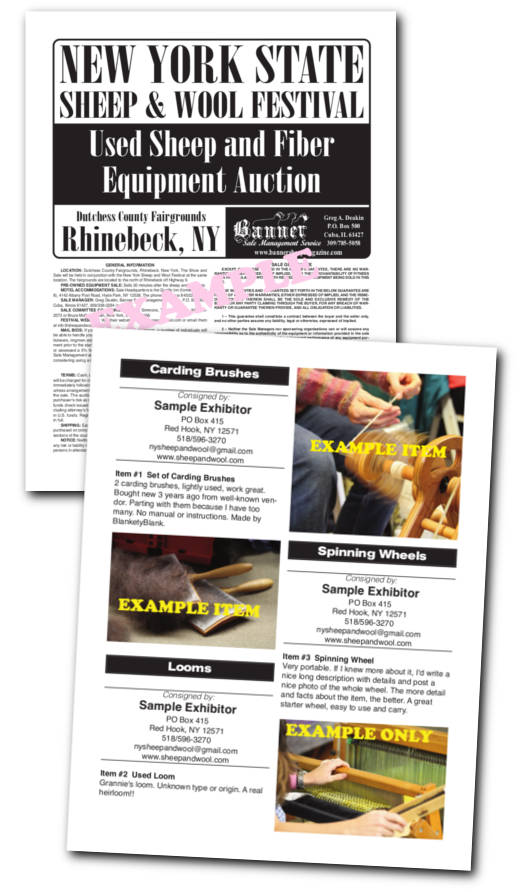 Returning in 2019... Used Fiber & Sheep Equipment Auction to follow Bred Ewe Sale/Auction on Saturday. Shears, feeders, spinning wheels, looms, carders, shuttles, rare and specialty items.
WHEN?
1/2 hour after Bred Ewe, Lamb & Angora Goat Sale Saturday

WHERE?
Main Livestock Arena
CONSIGNORS INSTRUCTIONS: Bring items to consign in the auction to the Livestock Arena (Barn 34 on map) 12pm-6pm Thursday Oct. 18, or 2pm-6pm Friday, Oct 19, 2018 or prior to the Festival using our online form. Note: The contact information that you submit in the online form to register your items in the auction will be posted in the Catalog preview! Click to see last year's 2017 PDF Catalog
Festival Contact: Bruce McCord, 845-705-8048
BUYERS INSTRUCTIONS: Get your Buyers # at Banner Sales Office Saturday (37A on map)
New York State Sheep and Wool Festival
Used Sheep and Fiber Equipment Auction
Shepherds here is a great opportunity to sell and buy used sheep and fiber equipment. Need something special or just getting started here is the chance to purchase that something you've been wanting. Come and bid on equipment: shears, feeders, lambing pens, show equipment, spinning wheels, looms. carders, shuttles something for the fiber enthusiast except fiber.
2018 Auction Guidelines:
Consignments maybe submitted from 12-6pm on Thursday and 2pm-6pm on Friday.
Auction Committee reserves the right to refuse any item for any reason. Please be selective in choosing items for sale. Items should be of good quality and condition.
All items sold AS-IS no warranties expressed or implied by Dutchess County Sheep and Wool Growers Association
New York Sheep and Wool Festival, Dutchess County Sheep and Wool Growers Assoc. and Banner Sales are not responsible for loss or damage of items consigned or purchased. All purchases become responsibility of buyer at point of sale.
Auction will take place in Main Livestock Ring following Bred Ewe, Lamb & Angora Goat Sale.
All consignments sold or unsold need to be off Festival grounds by 7:00 pm Saturday unless other arrangements have been made with Auction Committee.
There will be a commission of 20% on all sales. NYS Sales Tax maybe applicable.
Items bid back by a consignor will be charged 10% commission on the bid-out price.
Buyers can pay for items with cash, check, or major credit card.
No pharmaceuticals, vaccines, dewormers, insecticides, herbicides, or chemicals of any type will be accepted as consignments!