REGISTRATION OPEN
The NY State Sheep and Wool Festival
2023 NORTHEAST ANGORA GOAT SHOW
Saturday, October 21st & Sunday, October 22nd, 2023
FLEECE SHOW: Friday, Oct 20th, 4pm - Bldg B
Judge - Theresa Bergeron
Please check back periodically as some information may change. This year marks the 24th year for the annual Angora Goat Show in Rhinebeck. Both white and naturally colored goats will be shown.
Sponsorships available for all Show Classes.
Contact Dan Melamed: angoragoats@sheepandwool.com 518-965-4603 for details. Thank you!
Entry Deadline TBA - ONLINE ENTRIES ONLY in 2023 (no paper)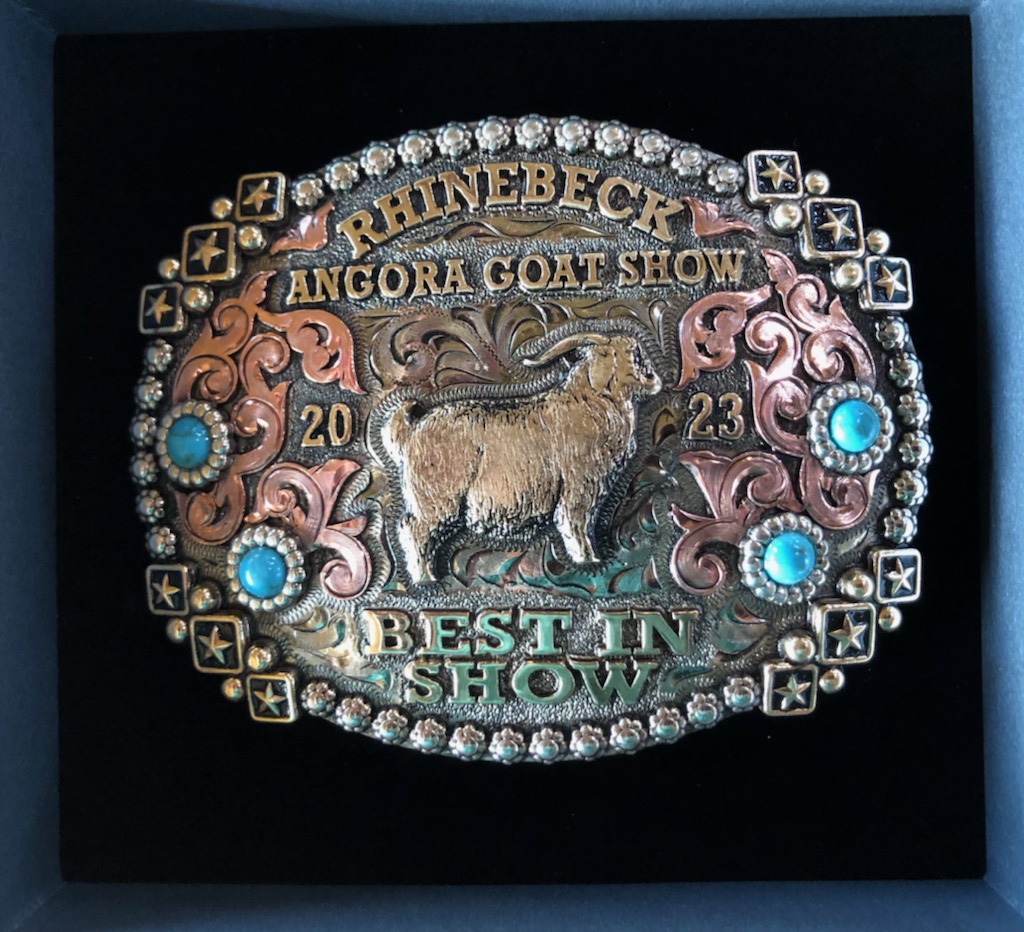 Goat Show Premiums Provided by New York Sheep and Wool
1st - $35
2nd - $30
3rd - $25
4th - $20
5th - $15
6th - $10
7th - $5
8th - $5
SHOW RULES
NEW YORK STATE IMPORT REGULATIONS EFFECTIVE MARCH 5, 2008

CERTIFICATE OF HEALTH IS THE ONLY DOCUMENT NEEDED FOR THIS SHOW.

TB, BRUCELLOSIS AND BLUE TONGUE TESTING ARE NO LONGER REQUIRED.

HOWEVER, ANIMALS BEING SOLD TO NEW OWNERS AT THIS SHOW REQUIRE THE PROPER DOCUMENTATION TO TRAVEL INTRASTATE OR INTERSTATE. PLEASE CHECK WITH YOUR VET AS TO THOSE REQUIREMENTS.
All animals for show MUST be owned by the exhibitor for a minimum of 6 months prior to the show.

All animals being presented for show and/or sale must be in good health.

To that end the following are necessary:

Health certificate, appropriate for your situation (either INTRAstate or INTERstate). Proof of Rabies vac. within 1 year of show date is strongly recommended but not required. Please make sure that your unique farm ID is clearly visible on the health forms and that it is used to identify EACH animal listed on the form.

Scrapie tags/ ID - MUST be in place for all animals attending this show.

This includes animals within NY State. Any questions please check with your vet. The NY State USDA Tech does attend this show and will be checking animals for proper ID/scrapie compliance. The only exception to this requirement is - registered animals with registration papers accompanying each animal. The identifying numbers on the registration form MUST match the chosen farm identification, as well as the identifying marks or tags on the animal. A tattoo used for identification purposes MUST be readable or it will NOT be accepted. Original registration forms and NOT COPIES must be presented.

Goats should be shown in fleece with growth of 4-6 months.

Fleece clip should be appropriate to age of goat, ie. Kids should be presented in 1st or 2nd clip fleece, Yearlings in 3rd or 4th clip fleece, Adults 5th clip fleece or greater. Goats in clip not appropriate to age may be disqualified or placed lower in class depending on judge's decision. Any questions please contact us. Judge's decisions are FINAL.

Good goat grooming for a show includes hoof trimming and the removal of stained hair/manure tags from the animal's rear end and pizzle areas. Goats MAY NOT be washed or the fleece treated with any conditioners or any agent to soften or otherwise alter the natural state of the fleece. Exhibitors using a "pour-on" agent for external parasite control should not apply the agent in the several weeks immediately prior to the show.

People showing goats for the first time, sometimes have questions pertaining to proper handling of the animal while being presented to the judge. Please feel free to contact us with questions. 518-965-4603 angoragoats@sheepandwool.com

All animals shall be inspected upon penning or as soon thereafter as possible. For your convenience the fairgrounds is open until very late (10pm) on Friday, Oct. 19th, 2018. For your animals' comfort and safety, you may unload your animals into the pens designated for your farm when you arrive. If it is after 6PM on Friday, review of health records may be deferred to Saturday AM. If animals are arriving Saturday, they MUST be unloaded and all vehicles removed from the goat barn area by 8:30 AM. Please make every effort to meet this deadline. PLEASE PROVIDE US WITH A PHOTOCOPY OF YOUR HEALTH CERTIFICATE(S) TO KEEP ON FILE.

We request that animals remain in the pens, on display, until the close of the show on Sunday at 5:00PM. This will provide for a full barn on both days, and a better presentation overall. Most shows have this time frame requirement.

All other equipment: water buckets, feed buckets, rakes, brooms etc., are the responsibility of the exhibitor.

Please try and plan to spend some time in the goat barn to answer questions the general public may have about Angora goats.

PLEASE DISASSEMBLE PENS AND STACK ON INSIDE OF BUILDING ONCE ANIMALS ARE REMOVED FROM PENS AT THE CONCLUSION OF THE FESTIVAL. FAILURE TO DO SO WILL RESULT IN PREMIUM FORFEITURE unless arranged in advance.

STRAW BEDDING NO LONGER PROVIDED BY THE FESTIVAL. INSTEAD, YOU MAY PURCHASE STRAW ON SITE. YOU MUST EITHER PURCHASE BEDDING OR BRING YOUR OWN.
OTHER THINGS TO KNOW
We can also provide a number of local possibilities for lodging. This is an important item to investigate early as the autumn is a very popular time in the Northeast for "leaf peepers". Hotels and motels book up early. Please contact us if you need more info.