By using Blue Ribbon Fair Management's online registration system, we're making it easier for our volunteer staff. In 2023 there will be no paper option available, we expect to only use Blue Ribbon for entries. Follow this guide to creating your entries.
Remember, only the fields with an "*" asterisk are required to create an account.
STEP 1. After you create an account and LOG IN, you'll see this. Click "Premium Book/Catalog" in the top menu.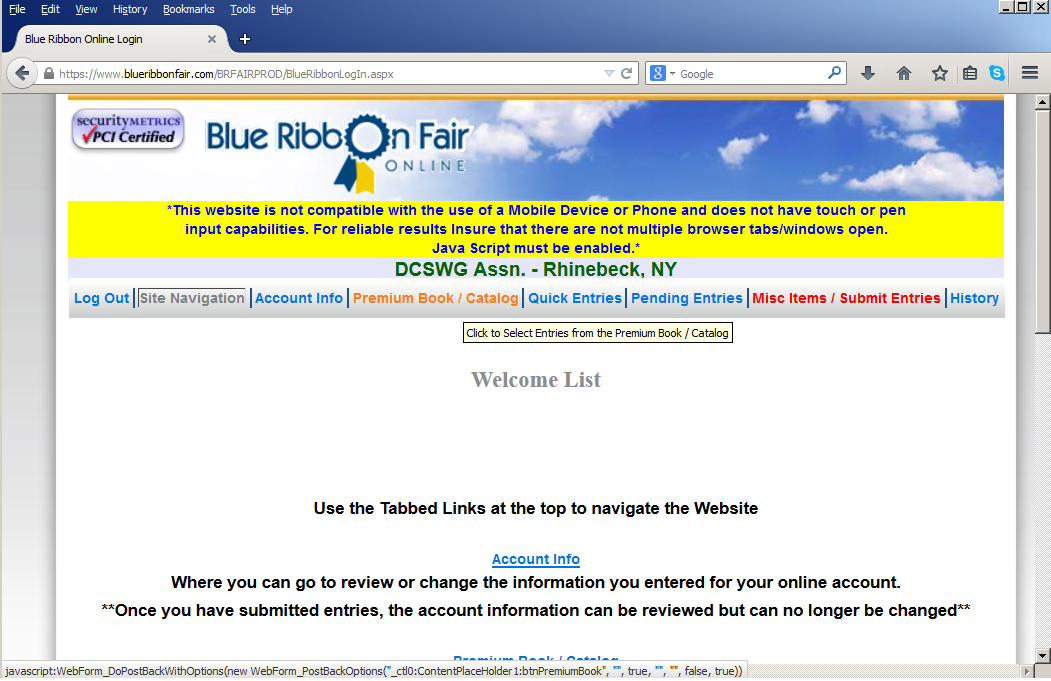 STEP 2: Now you see this. Click "110 FIBER CONTESTS" and you'll see the page refresh with all of the Class numbers.
STEP 3: Having noted the Contest CLASS #s that you want to enter into, click the PLUS + sign next to the Contest you want to enter.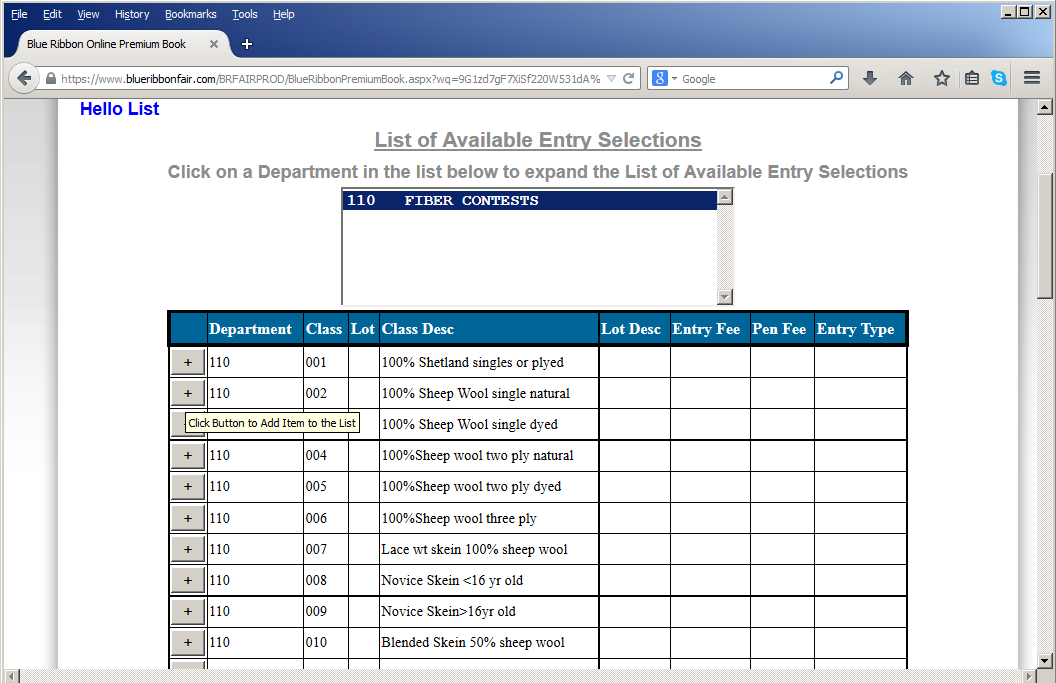 STEP 4. This shows a drop down. Now you can click ADD button.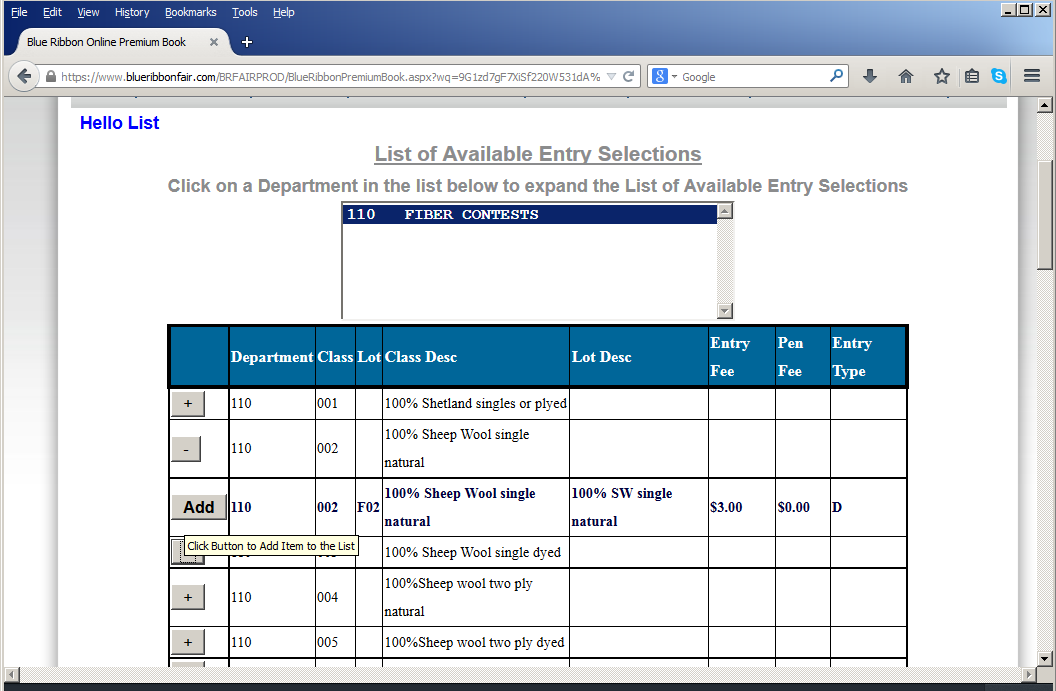 STEP 5: Now you'll see a page. Click SAVE ENTRY and that saves one entry for that contest.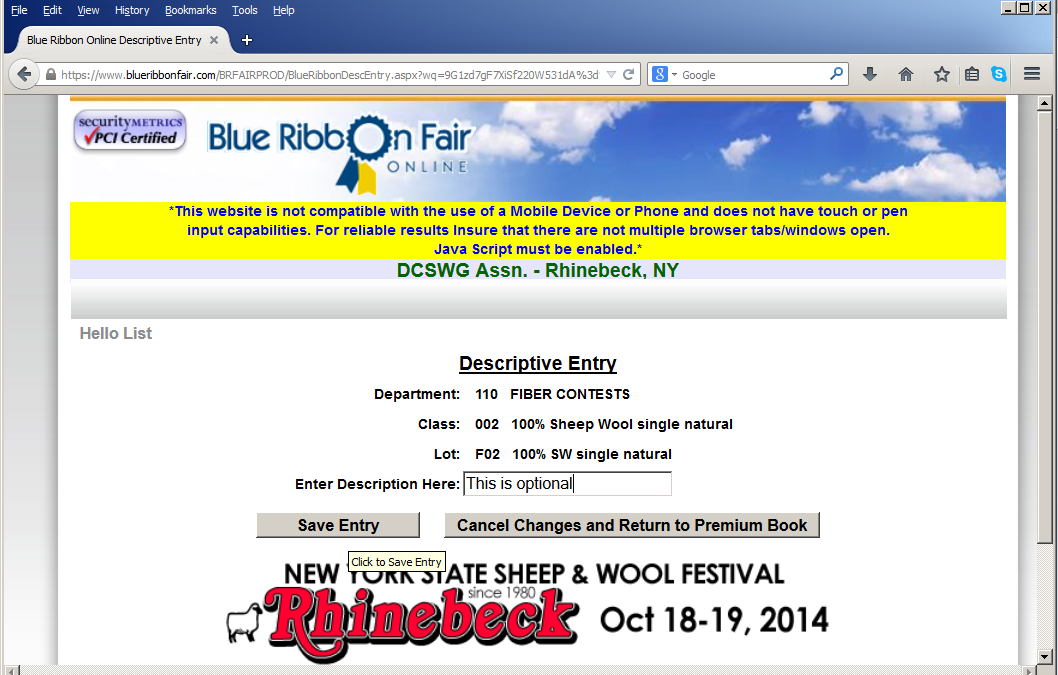 STEP 6: You'll see this popup window.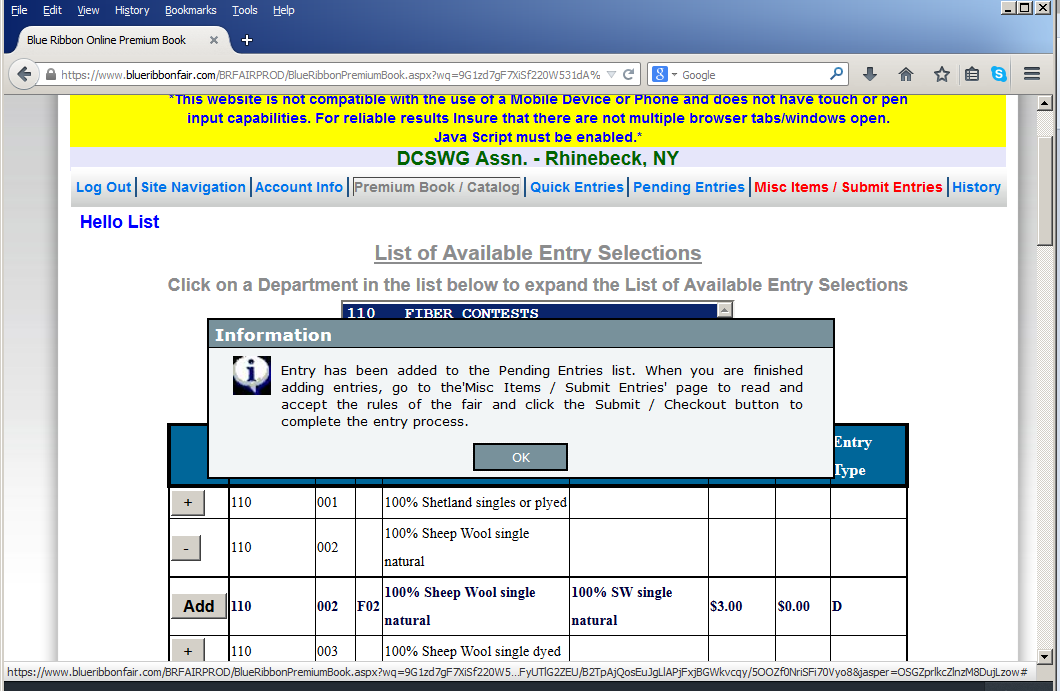 STEP 7: After clicking the OK button, you're back where you left off. If you have more items to enter for that contest, repeat the steps, making sure you ADD to the correct Class #. Adding descriptions to your entries might help you keep track of the items you plan to make.
STEP 8: After following the steps and adding your entries to the contests, you can review "Pending Entries" from the menu item. The example below shows 2 entries into 2 contests. You can ignore anything about "pens" and "stalls" - that's for livestock shows.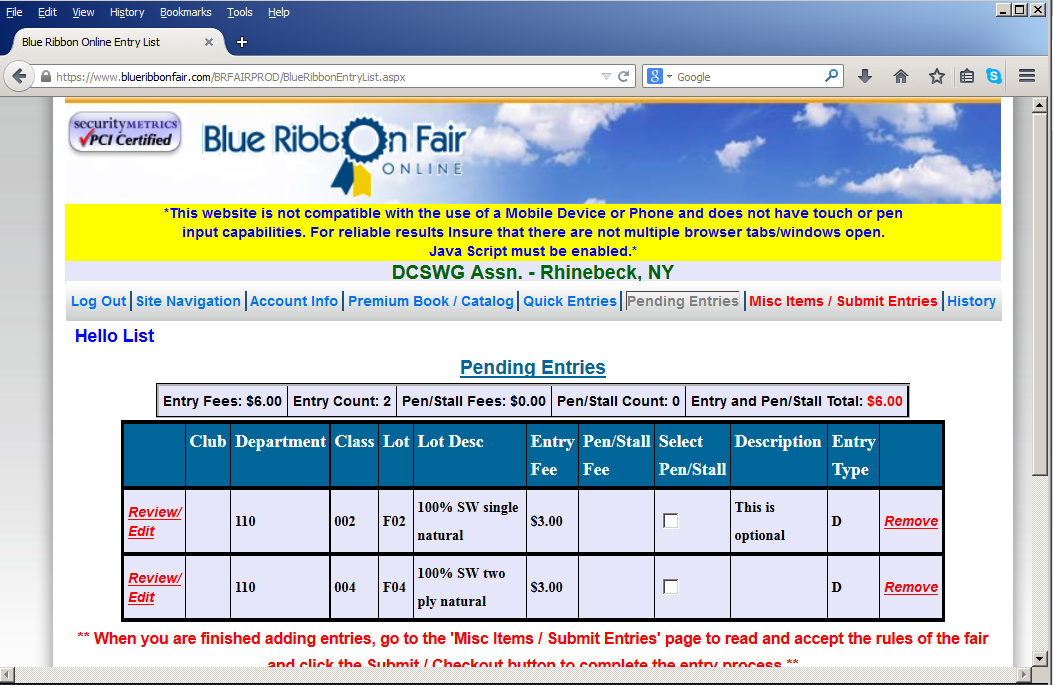 STEP 9: After entering into the contests that you want, you have some choices. You can LOG OUT and keep deciding what you want to enter into. Then LOG IN again later to keep entering items into your Pending Entries. Or you can pay on the spot. When you are ready to pay with a credit card, follow the instructions in RED on the screen and you'll come to the screen below. Want to enter more items? Rinse and repeat...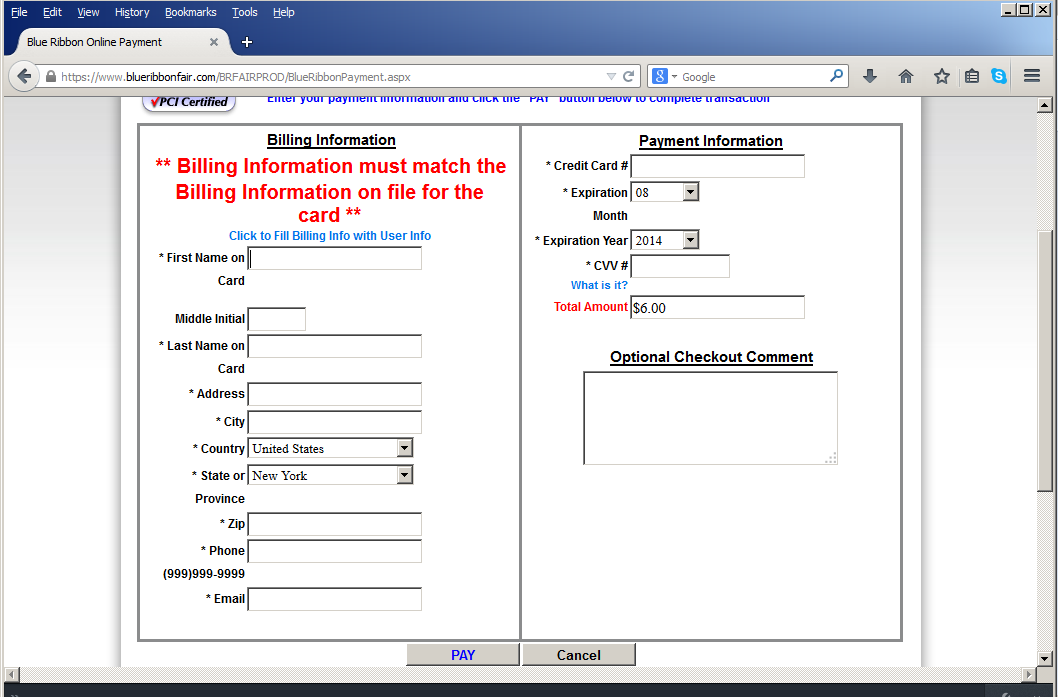 NOTE for FLEECE TO SHAWL ENTRIES
Team Captains should be the only ones entering into the Fleece to Shawl Contest for the team. It doesn't matter who's credit card is used to pay... Just make sure the Team Name is added in the Description field for that entry. If the person registering online is the Team Captain, that is helpful. The online form has space to fill out all of the Team Members names.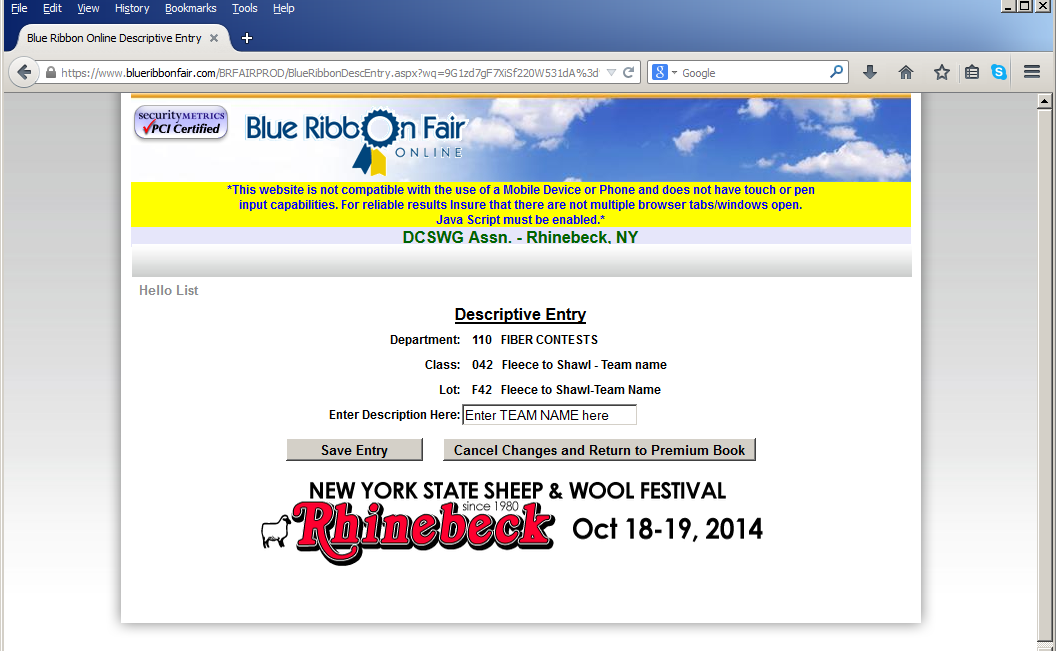 Thanks again for working with us and have fun crafting! We're always interested in volunteers who can help monitor the exhibit, so if you have free time, email fibercontests@sheepandwool.com